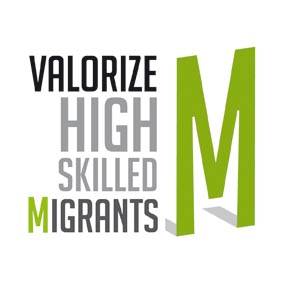 The project Valorize - Valorize High Skilled migrants (VHSM) - is a transnational project carried out between 2014 and 2016 under the European program Erasmus+, intervention priority KA2 Education of Adults. The project focuses on adult migrants with medium-high professional competencies that either cannot participate to the Labour Market, or they hold low positions comparing to their knowledge. The project aims to design and implement an innovative path of support targeted at migrants with medium- high profiles and migrants who are found to be under-employed in the labour market in the host countries.
The intellectual outputs (IO) designed to achieve the project purposes are four and together they make the VHSM intervention model:
OUTPUT 1 – Development of a common framework of Soft Skills required by companies to insert MHS Migrants
The output 1 focus on people whose competences are included within the levels 4 and 6 of EQF European Qualification Framework based on the Consortium's survey on more than 75 European companies and on the literature.
OUTPUT 2 – Model of Soft Skills Assessment (MOSSA)
The MOSSA output supports the identification and evaluation of migrants' soft skills. Based on the findings, migrants will try to improve the skills using the material developed in the output 3, MOSSE.
OUTPUT 3 – Model of Soft Skills Empowerment (MOSSE)
The MOSSE output focuses on the empowerment of the migrants soft skills by providing traing and exercises targeting 12 soft skills in total.
OUTPUT 4 – Model of Promotion and Self Promotion (MOSP)
The MOSP output aims at promoting the migrants' skills with the use ePortfolio/Portfolio, video CV and the use of social media in general and social media for professional in particular.
Koordination
Beteiligte Institutionen
Kategorie: Allgemein, Berufliche Bildung, Erwachsenenbildung
Schlagworte: Migration
Alle Projekte