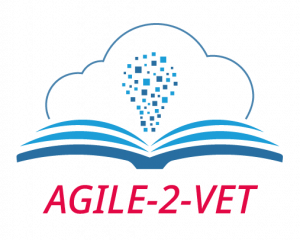 The project aims at contributing to innovation of the VET sector by strengthening the capacity of VET providers to deliver inclusive and high-quality digital training.
Main focus
Developing the ability to implement online, blended and distance training and learning in collaboration with digital technology providers and experts in educational technologies and pedagogical practices.
How to do
Enriching the skills of staff of VET providers, specifically trainers and tutors, in relation to the transition from face-to-face to remote training.
Strengthening the collaboration between training institutions and companies providing digital technology and experts in educational and pedagogical practices, to structure training design models that can be used in the context of professional distance/online training.
Output 1: ANALYSIS OF THE MECHANICS OF DISTANCE LEARNING
The first step is to provide desk research on online/distance learning mechanics and field research (realised through questionnaires/interviews and focus groups) to collect indications by local stakeholders. Analysis will focus on different items, like course development, learning process, course structure, learner support, evaluation and assessment. The final goal is to identify the Key Features for developing Models for training design and necessary Skills for elaboration and implementation of training programs.
Output 2: TRAINING MODEL ON E-LEARNING TRAINING DESIGN
This phase will follow a procedure in 3 interconnected steps. First of all, the elaboration of a Training Model for the development of Key Digital Skills of trainers and tutors. Then, the elaboration of a Training Model for the development of the Key Skills for building educational supports and innovative proposals. Finally, a Training Proposal that will integrate the 2 skills' sets into a unique training course will be defined. The consortium wishes to carry on a holistic approach concerning the training process, so including all competences and skills of both training models in a unique proposal. This approach is essential to create a real shared digital culture among all professionals working in VET sector.
Output 3: EXPERIMENTATION FOR AGILE-2-VET MANUAL
Final result of the project is the most important. It concerns experimentation of the training proposal elaborated during 2nd phase activities. The result/output is divided into two macro-activities: experimentation and elaboration of AGILE-2-VET manual. This main activity will consist of the implementation of a training course for trainers, tutors, designers and VET staff, that will take place in each partners' country. The experimental phase will allow to collect feedbacks in order to elaborate the final version of the manual.
Erasmus+

Disclaimer of liability: this project has been funded with support from the European Commission. The authors are solely responsible for the content of this publication; the Commission is not responsible for any use which may be made of the information contained therein.
Koordination
Beteiligte Institutionen
Kategorie: Digitalisierung, Erwachsenenbildung

Alle Projekte