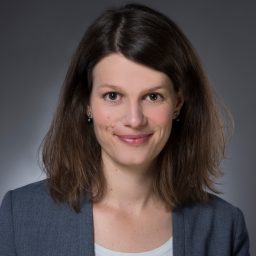 Prof. Dr. Svenja Bedenlier
Funktion
Juniorprofessorin
Kontaktdaten
svenja.bedenlier@ili.fau.de
+49 (0) 9131 8561106
+49 (0) 9131 8561138
Raum 4-07
Arbeitsschwerpunkte
Digitalisierung im Kontext von Internationalisierungsprozessen an Hochschulen
Open and Distance Education
Student engagement in digitalen Lehr-Lern-Settings
Methode des Systematic Review
Projekte
Publikationen (CRIS)
2023
2022
2021
2020
2019
Bedenlier S, Bond M, Buntins K, Zawacki-Richter O, Kerres, M:
Learning by doing? Practical reflections on conducting a systematic review in educational technology research
In:

Zawacki-Richter O, Kerres M, Buntins K, Bond M, Bedenlier S (Hrsg.):

Systematic Reviews in Educational Research. Methodology, Perspectives and Application

,

Wiesbaden

:

Springer

,

2019

, S.

111-127


DOI: 10.1007/978-3-658-27602-7_7

Turkey
In:

Qayyum A, Zawacki-Richter O (Hrsg.):

Open and Distance Education in Asia, Africa and the Middle East: National Perspectives in a Digital Age.

,

Singapore

:

Springer

,

2019

, S.

105-119

(Springer Briefs in Open and Distance Education, Bd.2)
DOI: 10.1007/978-981-13-5787-9
URL: https://www.springer.com/gp/book/9789811357862
, , :

Facilitating student engagement through educational technology: Towards a conceptual framework
In:

Journal of Interactive Media in Education

2019

(

2019

), Art.Nr.:

11




ISSN: 1365-893X


DOI: 10.5334/jime.528
, :
2018
2017
2016

Jung I, Gunawardena CN: Book Review: Culture and Online Learning. Global Perspectives and Research
In:

International Review of Research in Open and Distributed Learning

,

ATHABASCA UNIV PRESS

,

2016

, S.

256-258


URL: http://www.irrodl.org/index.php/irrodl/article/view/2492/3661
(Rezension)
:

Teaching Trends 2016: Digitalisierung in der Hochschule: mehr Vielfalt in der Lehre


Münster New York

:

Waxmann

,

2016


(Digitale Medien in der Hochschullehre, Bd. 5)


ISBN: 978-3-8309-3548-3

, , , , (Hrsg.):
2015
Vita
Svenja Bedenlier ist seit März 2020 Juniorprofessorin für E-Learning in Hochschulen und Erwachsenenbildung am Department Pädagogik und dem Institut für Lern-Innovation.
Von Oktober 2012 bis Mai 2019 arbeitete sie als wissenschaftliche Mitarbeiterin an der Professur für Wissenstransfer und Lernen mit neuen Technologien an der Carl von Ossietzky Universität Oldenburg. Hier war sie in den Projekten "Gelingensbedingungen aktivierender Lehr-Lernsettings mit digitalen Medien an Hochschulen – ActiveLeaRn" und "Digitale Bildungsarchitekturen. Offene Lernressourcen in verteilten Lerninfrastrukturen- EduArc" beschäftigt und forschte zu den Themen Digitalisierung und Internationalisierung im Hochschulkontext. Von Juni 2019 bis März 2020 war Svenja Bedenlier Referentin für Internationalisierung an der FernUniversität in Hagen.
Im Rahmen ihrer Promotion zum Thema der Internationalisierung von Hochschulen und ihren Auswirkungen auf WissenschaftlerInnen und Wissenschaftler verbrachte sie Forschungsaufenthalte in der Türkei und in Kolumbien. Zwischen 2007 und 2012 studierte sie den Bachelor Pädagogik / Gender Studies und den Master Erziehungs- und Bildungswissenschaften (Lebenslanges Lernen / Bildungsmanagement) an der Carl von Ossietzky Universität Oldenburg und der Marmara Universität in Istanbul.
Sprachen
Englisch